This is another idea that has been in my mind for months, and I'm so thrilled that I added it to the KDE Google Summer of Code 2011 KDE Ideas wiki: a new installer for KDE on Windows.
Currently, KDE on Windows can be installed using either emerge or the end-user installer. The installer is Cygwin-like, which means it is very different from the normal InstallShield, NSIS, MSI, etc installers Windows users are used to: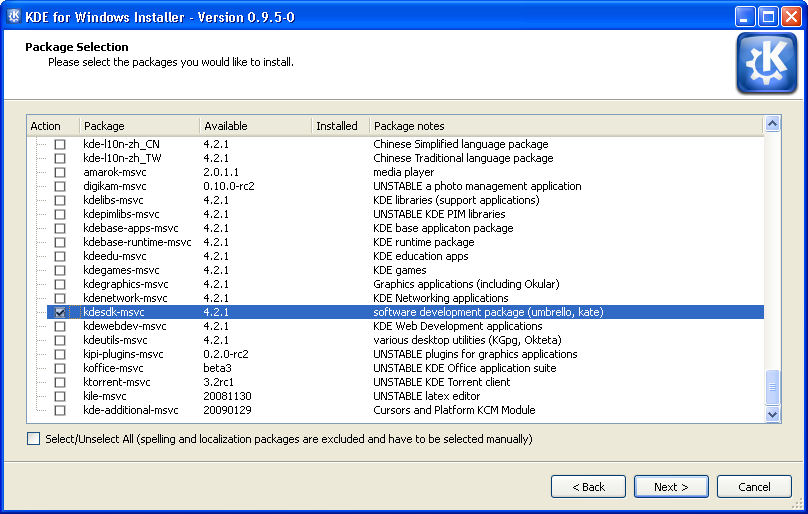 Have you seen Apple's Mac App Store?

Building on the success of the iPhone App Store, Apple created a web-based application which changed the game for Mac users that want to buy software. The Mac App Store is a shopping mall where you can easily search for software for whatever you want to do, read what others think about some application, download an evaluation version and purchase a license. In case you reinstall our computer, or move to a new one, you can install all the applications you had in your old Mac with just one click.
Coming from the Linux world, I must confess at the beginning I did not understand why people where so excited with the iTunes Store, Android Market or the Ovi Store. After all, it's just like an apt or RPM software repository with a fancy interface where you need to pay to download stuff.
Be it because they can find everything in one place, the easy payment method, reduced prices, integrated experience, nice UI, all of them or none at all, people are coming to app stores by droves. And I think an the app store concept fits perfectly with the need of KDE on Windows: a single installer that makes possible to install multiple applications, and with a gorgeous UI.
So here is my sixth wish-a-day: a new installer for KDE on Windows, something inspired in other app stores.
If you are an student, you may apply to Summer of Code and send a proposal to create a new installer, something which looks much more appealing (Oxygen style, etc) and is easier to use than our current installer. With sensible default values. The Apple Mac AppStore is a good example. You can reuse a lot of code form the current installer (dependency management, download logic, etc). For the ratings, comments and keeping track of what a user has downloaded ("purchased"), you can use implement the relevant parts of the Open Collaboration Services specification (AKA Project Bretzn). As for the graphical part, QML looks perfect.
See the idea in our wiki. If you need more information for your GSoC application, contact me through the kde-windows mailing list.